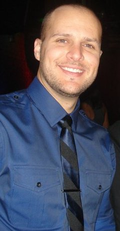 Hello!  My name is Steven Silva, owner of Estate Inspection Group Inc.  I have been a life-long resident of Westchester- Croton-On-Hudson for 8 years, Cortlandt Manor for 22 years and now Somers!!!
I have been in the construction and inspection business for 15 years, and recognize a few characteristics of myself and what I offer that set me apart from other inspectors.
I feel passionately that educating my clients before, during and after the inspection process not only puts them at ease with arguably the most important investment they will make in their lives, but assist the realtor in problem recognition and creates an avenue of communication to attack a sale head-on to maximize the return on their purchase.  The clients that are involved in my inspections play an active roll in the walk through.  They are engaged in discussions pertaining to the structure of their home, areas of improvement and regions of concern.  My goal is not for them to go home with a list of how perfect their new home is, but rather with an awareness of what they are about to purchase.  For sellers, my pre-listing inspection translates to an awareness of what they can expect when they list their home, and the opportunity to maximize that selling potential.
Part of what has given me such a comfort and willingness to teach my cleints is my educational background from New York University.  I am one of the rare inspectors with a Masters education in Construction Management, which was a dynamic program focusing on all aspects of construction.  Being in management requires efficient and effetive communication to ensure each project is properly and efficiently completed.  I carry my education and communication skill set into Estate Inspection Group Inc. to ensure thorough inspections are peformed and that my findings are clearly and patiently explained to the clients.
I am very excited to be a part of the Somers Chamber of Commerce and look forward to the opportunity to personally meet other local business owners!
80 Mitchell Road
Somers, NY 10589