Welcome to the Somers Chamber of Commerce!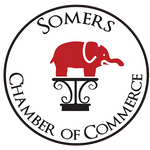 Search our business directory, view our events calendar, look up our current members, and join us today!
Stay tuned for more events and an exciting Fall with the Somers Chamber of Commerce.
Thinking about joining the chamber? Become a member! 
In addition to hosting informational seminars open to the public as well as monthly networking dinners for our members, the Somers Chamber of Commerce participants in and supports:
Memorial Day, High School Scholarships, the 4th of July Celebration, Celebrate Somers, High School Business Day, The Halloween Parade, Veteran's Day, Christmas Caroling, and the Annual Somers Food Drive. 
We aim to promote involvement in Somers and networking with other local businesses, so join us today to grow our Chamber!
We love Somers!